Well slap my ass and call me Susan, if it isn't an update! We have been disgracefully quiet here and in hibernation for the last while or was it a coma, not sure, anyway the point is we're here now, it's the thought that counts after all.
What is it that has risen us from our sleep like state? Well it's none other than the wondrous event that is Jigs and Rigs. That's right the good people at Force 10 are doing their fantastic festival on Rathlin Island and we are delighted to have been asked back once again, one sniff of Rathlin and we're ready for action. This year we're going to be hooking up with Tír Na gCasta and Deviant.
This year the festival will be a ticketed event in order to try and control numbers, ticket prices are a paltry £20 and can be purchased from the Force 10 website, all proceeds go to the campaign to save the Hill of Tara, a very worthy cause. For full details and to purchase tickets check out the Force 10 website.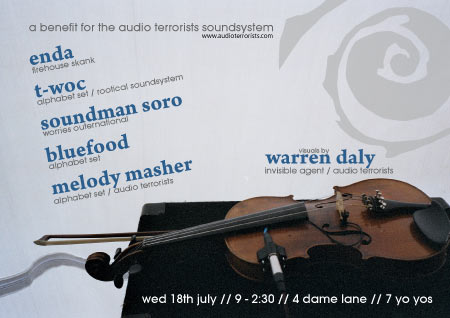 In the meantime we are doing a fund-raiser to help us make it to Rathlin as we're totally skint. If you're in Dublin on the 18th July, come along to 4 Dame Lane for a night of quality reggae / dub / dancehall / electronica / breakcore and much much more brought to you by some of the top DJs and producers Dublin has to offer; Enda, T-woc, Soundman Soro, BlueFood and Melody Masher with visuals by Warren Daly. Rumour has it that there may even be a raffle, it's going to be more fun than you can shake a stick at.