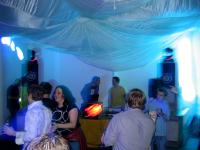 Well I think this is the fastest I've ever gotten photos up after a gig. Check them out over on ebauche.net.
Brilliant gig, thanks again to the Force 10 crew for having us along for the night, and big appreciation due to the Catalyst Arts Centre – it's an amazing space which I recommend checking out.
Many thanks to A-Force for his quality mix set, and to Prince Kong and Lakker for coming along and representing the true sound of Audio Terror.