Fingers out, one and all, and not a moment too soon. In typical "left to the last possible minute, yet executed with the grace and dignity of Twink" style, we are throwing a bash to assist us and our long term partners in offshore shenanigans, the mighty Force 10 Crew, to bring to you all…. the Jigs n Rigs Festival 2k9!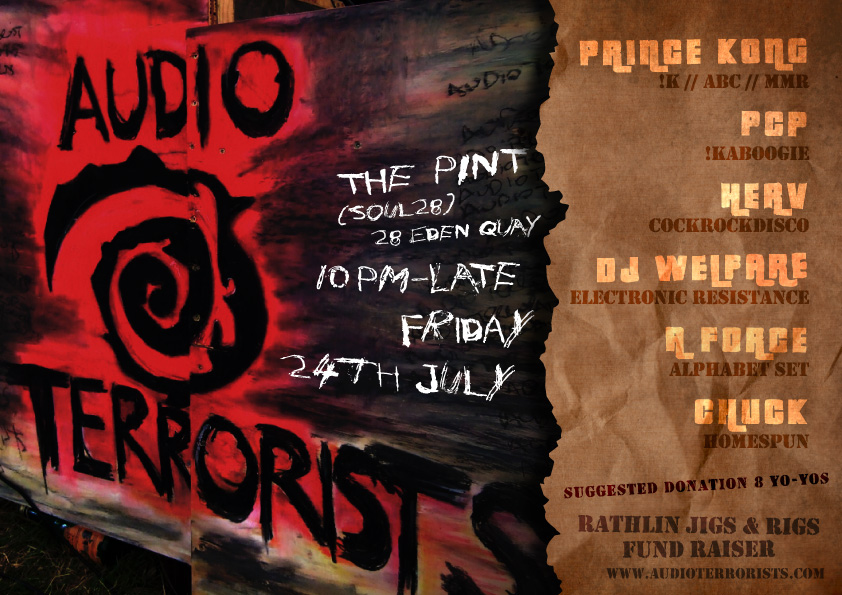 This is seriously some of the finest of the finest right here, we're chuffed to bits to have the support of these guys, it's a killer line up. Get in, people!
Prince Kong has been killing dance-floors for the last few years, like seriously killing them. He graced our stage at the last Jigs n Rigs, he did us the honour of playing with us at our belfast gig too, and the man is still with us! He's had releases out on Alphabet Set and !kaboogie records, he's recorded with Warrior Queen, Jah Balance and a host of other supremo vocalists the man is pushing through. Watch this, then get some air, and drink some water, then clear your calendar for saturday, cos you'll need to lie down all day after friday. No joking.
PCP will probably be the reason for the introduction some sort of "life time achievement award" for Dublin's counter-culture or underground or whatever it all is. The man is a Lifer, no doubt. He's maintained a 15 year (yes.. 15 years!) presence on Radio na Life, Dublin's most consistently excellent radio station, with his "PCP ina huí" weekly broadcast, the stains left on the nation by the SpaceCraft anarcho-theater collective (to whom the Audio Terrorists crew owe immense dues for inspiration and mojo.. seriously…) will never wash out and for this we are all better off… and he's currently regularly proving he's still down-with-the-kids spinning tunes with some of the world;s best at !kaboogie nights. We we trust you will all join us as we bow down before our leading ambassador in creative activism and active creativity, as we tip our hats and shout "Bo!" to a proppa selecta! Expect the new and cutting edge mixed in with the old and cutting edge.
Herv. An exceptional gentleman, he has been doing the Irish chiptune / 8bit / breakcore / noisecore / whatever scenes massively proudly over the years. He was an outstanding favourite at Jigs n Rigs 2007, and we're delighted to announce he'll be gracing our stage yet again this year. We seriously love Herv. Can't even be bothered listing all his releases.. check the Discogs entry yourselves. Come down on friday not only to hear the man play his finest tones, but to observe all the female members of the audience be reduced to starry-eyed lust-fuelled gibbering balls of hormone. It sounds disgusting, but it's really quite beautiful.
DJ Welfare will be making his debut appearance on the Audio Terrorists system, and about time too. A full time and active member of the Electronic Resistance DJ collective, the man is all about change. His jungle n breakcore and beyond sets have had him playing all round the country for the last couple of years and we look forward to his selection on friday. Giggidy.
A-Force. A few years ago now, Andy A-Force came into Dublin. Just walked in, all shoulders like. Synth under one arm, bag of records under the other. He didn't say much really, just gave everyone the eye. And it's pretty much worked. He's got in there with like, all the crews of note… us, Alphabet Set, !kaboogie… pretty much anyone for whom BASS is a requirement will have got to know this man. He posts music an ting at Aistear Dub. Get in to us on early on friday to make sure you catch all this noise. Gonna be massive.
DJ Chuck from our partners in revelry, the Force 10 crew will be hitting the wheels of steel. We first met Chuck in a woods many years ago. He wasn't chucking wood, now, he's not a woodchuck, he's just a Chuck. But he's a good Chuck, and we love him. Expect some groovy dance-floor action. Gonna be mega.
So there ye have it. Get there early for added value for your donations and to hear all the talent. We'll be playing as late as we're allowed to. All donations received will go into the general costs of running the festival… the millions of sundries required for such an event. Highly appreciate all your support in this. Keep your eyes on the site for more updates about the festival over the next couple of weeks.