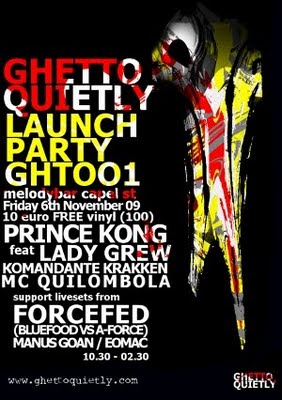 The latest in a succession of great new Dublin labels putting out vinyl, Ghetto Quietly launch Prince Kong's long awaited debut full length album, "Proper Horror Show". This gig will be the stuff of legend.
The gig features the man of every moment Prince Kong with a heap of guest MCs, another appearance by the Forcefed combo of A-Force and Bluefood who've been provoking much booty-shakin about this town of late, purveyor of dubby-steppy-techy-something (i give up on genrification) Manus Goan, and the delightful shorter half of Lakker (but not that short really) Eomac will warm the place up.
The venue is the always interesting Melody Bar on Dublin's Capel st, the damage is €10 in, but first 100 tenner-payers get a copy of the album on double vinyl (nice!) or on mp3 (which is smaller than a tape apparently), and i'll be bringing every speaker that i can fit in my van. Proper bo.